TheONE——In Charge of the Evolution of Atmospheric Effects
Last time, we introduced MDG ATMe —— the best haze generator in the market. This turn, let's check out its brother ——theONE.
MDG Generator Series 2
Weather generator theONE
which controls the evolution of atmospheric effects
Award-winning theONE™, its revolutionary technology means the all-digital weather generator can produce fog or haze effects from one device. The structure and functionality make theONE™ to be the best choice for leaseholder and International Tours.
According to the practice data, theONE™ can run for 308 hours in the haze mode and 20 hours in fog mode. The haze/fog is pure and white, its particle size is only 0.5-0.7 micron.
In addition to the smooth switching dual mode design, it also equipped dual systems: Automatic Cleaning System (APS™) and Automatic Replenishment System (ARS™).
After the first heating cycle and release of haze/fog every time, APS™ will start and clean the heating module automatic, to prevent residues from accumulating and clogging. ARS™ can refill the internal fluid reservoir from the external 20L Fog fluid container automatically as required, ensuring that the maximum amount of continuous haze/fog can provided without interruption.
Furthermore, it is also the first weather generator with networking function, which can be controlled through the DMX/RDM connector or RJ45 node, and update through the USD2.0 Link connector.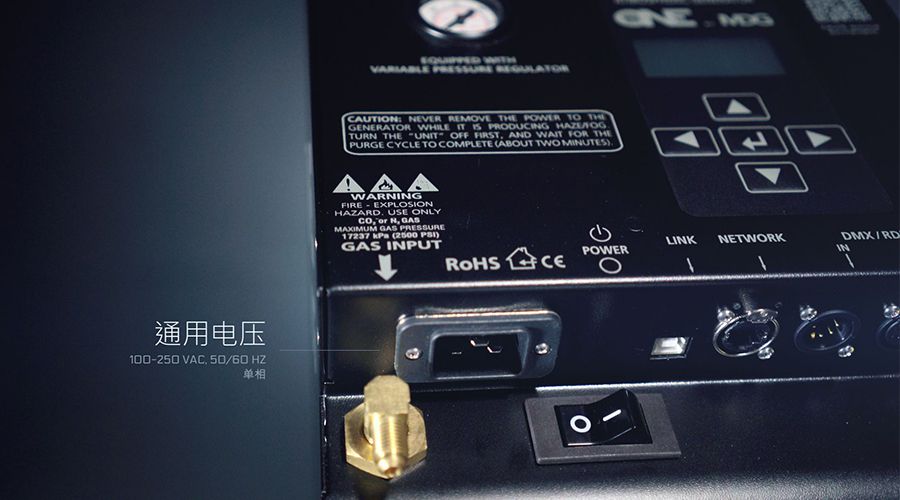 One of the most thoughtful designs of theONE™ is a custom-made touring tray, it containing theONE™ weather generator / an external two-position adjustable fan with dedicated control channel / handy tool drawer. A sturdy aluminum rack can hold 20L Fog fluid container and 12-liter carbon dioxide or nitrogen gas cylinders which with sizes. The construction of aluminum frame is higher than PLASA rigging standard. It is specially designed for lifting and stacking, suitable for any trucks/containers to facilitate the world tour of theONE™ and can be invoked at any time.
theONE™ is not only in charge of the evolution of atmospheric effects, but also got CE, CSA and UL certification, It is a real international product and the only weather generator you needed !
P.S. We will continue to introduce MDG generators for you,
Please keep your eyes on ACME~