ATMe, Represent for the Evolution of Haze !
With more than 30 years of experience, Canada MDG is a leading brand in creating weather effects and has a huge influence in the entertainment industry. MDG offers a wide range of products depending on the application, from light mist to dense mist, indoor or outdoor, regardless of the size of the mist, MDG can meet your requirements, and its weather effect can emphasize the light effect.
In order to let you know more about MDG's products, ACME as China and Taiwan general distributor of MDG, very honored to introduce the products in the following days, give you a popular series of products on a regular basis~
MDG Generator Series 1 – ATMe Haze Generator
The predecessor of ATMe is ATMOSPHERE APS, a professional haze generator that has been hailed as the industry standard for nearly 20 years, which perfectly matches the lighting effect. The single high-output haze generator ATMewas evolved from it, and continues to self-renew with the needs of the industry, with the goal of becoming the best haze generator on the market. Now let's get a sneak peek: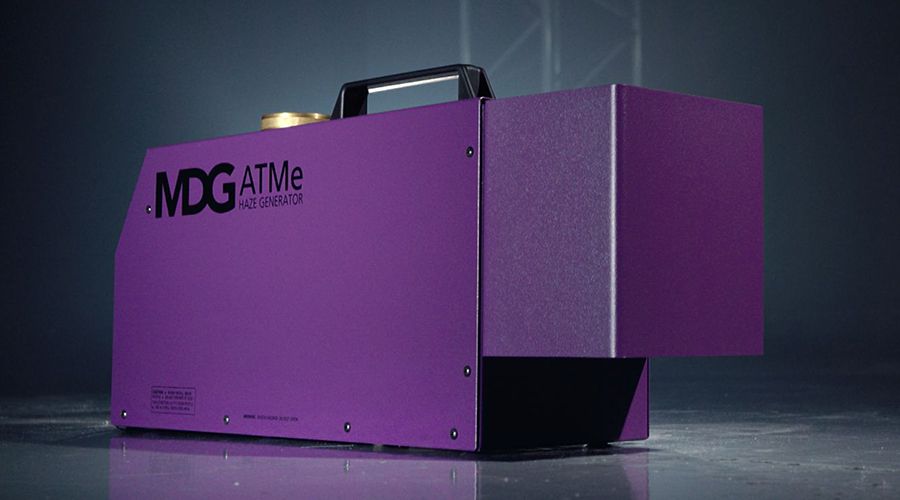 Great appearance to bright your eyes
The purple shell meets the girl's fancy
Equipped with simple handle on the body, easy to carry and transport
Small and simply 4-button LCD display, let operation become more easier
Multiple control modes for DMX/RDM/XLR-5 connectors
Precise and controllable output to help you achieve the desired effect
Fast response, allowing haze to be released continuously or instantaneously
100% duty cycle for maximum efficiency
Very low noise, never affecting the live sound
Lightweight and convenient installation extend the time of hang
APS automatic cleaning system to prevent accumulation and blockage
The lowest oil consumption in the market, Total running time up to 46 hours,
Saving time and effort
ATMe, which has many functions and excellent performance, is deeply loved by large-scale events such as concerts and stage plays, etc. It is undeniable that it is the best haze generator in the performance market.
ATMe, REPRESENT FOR THE EVOLUTION OF HAZE !