ACME Lights the Way at GETshow 2023 Guangzhou
The four-day 2023 GETshow exhibition opened grandly on May 8th at PWTC(Poly World Trade Center) in Guangzhou. This annual event attracted nearly a thousand globally renowned brand exhibitors, showcasing cutting-edge new products, information, and applications to global audiences from all angles and perspectives.
ACME Demonstration
1. Beyond Imagination Products
ACME and REYN AUDIO are poised to numerous new products. To showcase new breakthroughs and new features and our amazing stage art achievements, ACME has set up a stage show that integrates "art and technology", consisting of an opening light show, a dynamic product display, and an ending light show. Altogether eight stage shows per day are arranged to present an immersive lighting experience for the audience.
The opening show has a strong visual and auditory impact! Art and technology collide and merge with each other, presenting an immersive audio-visual feast full of technological beauty and expressive power through the transformation of fluctuated light source!
The ACME booth consists of two parts: dynamic and static exhibition areas. The former showcased "star-studded" lineup of 10 new ACME products and flagship products. For example, we launched for the first time a 1800W LED-powered, IP66 BSWP four-in-one moving head SUPERNOVA, the new-generation electronic atomization multifunctional effect light LIGHTNING, and pixel-controlled atmosphere light STORM. On site projection screen was play product videos which interpreted product design concepts, innovative functions, and other highlights. At the same time, the lighting fixtures were responded in conjunction with the video to demonstrate the corresponding effect. The dynamic presentation method allows exhibitors to vividly and stereoscopically experience the technological innovation achievements of ACME.
The dynamic exhibition area also includes a hidden master: a sound photoelectricity control system that independently controls audio equipment, lighting equipment, and videoes. The linkage performance of lighting, screen display, and other devices was all completed in one step by this small and powerful "HUBS".
2. ACME Booth Is All the Rage
After the display of the dynamic area products, the ending light show once again leaded the audience into another stellar performance of dancing light, projecting brilliant colors in the space, and narrating different themes and stories. After the end, an endless stream of visitors, professional technicians, buyers personally experienced and felt the charm of multi-tasking HUBS.
There are more new lighting products on display in the static area. The waterproof series such as moving head lights CRUX, HUE 6 IP and pixel strobe/beam dual-sided PULSAR S5 have attracted countless fans since their debut. There were also REYN AUDIO audio products RL0.5 and RL1 SUB, which allow us to showcase the brand image of ACME and REYN AUDIO from all angles, as well as their unique craftsmanship and innovative breakthroughs, once again proving our reputation and strength and determination to build a national and global. The static area was bustling with people, and exhibitors were stopping to visit and consult products.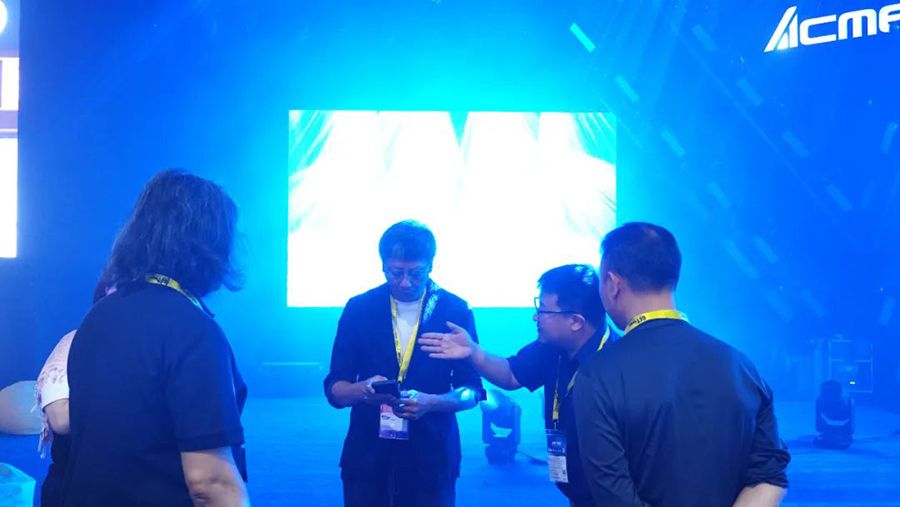 "It is better to see something once, than to hear about it a thousand times." ACME has more on-site performance to surprise! We sincerely invite you to come to booth 5B-01 of GETshow and experience our extraordinary creativity firsthand.
CShow
The lighting feast Cshow, assembled by a large number of Chinese entertainment equipment manufacturers, was showcased in 5D-01. ACME and REYN AUDIO provided lighting and audio equipment for this lighting feast. With the theme of "transformation", the stunning sound effect presents the ultimate visual beauty, creating a multi-dimensional sense of space, enriching the level of stage effect expression, awakening the audio-visual senses, and igniting a new trend in entertainment performances.
Special Thanks to:
Shenzhen Gloshine Technology Co., Ltd for providing LED screen(ACME Booth)
ACME Booth Information
Location: Poly World Trade Center Hall 5
ACME Booth: 5B-01
Cshow Booth: 5D-01
Date: May 8th-May 11th
Time: 9:00 am - 17:30 am (8th - 10th)
9:00 am - 16:00 am (11th)
---------------- THE END --------------