Functional Overview
ACME professional solutions and innovative products ARES Moving Beam are tailor-made for stage design and rental companies. The extremely effective Philips MSD Platinum 19R 4,000 Hours Long Lifespan(*Test lab conditions) discharge lamp with a great intensity of 882,000 lux at 10 meters offers extremely high output and fascinating prism/gobo combination effects.
The high-quality optics with a 200mm front lens and a remarkable beam angle at 1.3° offer almost inexhaustible possibilities. By ingeniously merging the independent frost wheel and two soft filters blending with an additional colour wheel offering 12 complementary colours plus a Minus-Green filter & High CRI option, it is possible to spark genuine emotions. Designer appreciates the powerful output and the wide range of dynamic effects that allow them to develop their creativity to the full. Fascinating lighting effects are created with the several animation gobos with indexable metal gobos on the wheel. A total of 4 prisms at two levels open up unheard-of possibilities in terms of creating diverse mid-air effects. The linear 3,200-6,500K CTO wheel and hotspot soft filters are enhanced by the high CRI filter for increased colour rendition and adaptation to TV and filming applications.
The attractive design of the compact housing with foldable clamps (Optional for Omega Bracket Base) for better handling in everyday use. 16-bit resolution enables smooth, uniform dimming and fast-moving pan/tilt speed. Designed to fulfill all scale stage applications, the new ACME ARES is a perfect beam light for all functional purposes.
Features
Light source: Fitted with a powerful Philips MSD Platinum 19R LL engine
A large 200mm frontal lens
Color Temperature: 6,700K
Motorized focus
1x Color wheels: 12 colors + CRI filter + green-minus filter, rainbow effect
1x Static gobo wheel: 10 HD gobos, including 3 water effect gobos, plus open
1x CTO, Linear Variable from 2,800K to 6,700K
3 effect gobos,can overlayable with gobos
Prisms: 1 x 8-facet prism,1X24-facet prism, 1 x 48-facet prism,1 x 6-facet linear prism, 8 types of combinations
0-100% smooth dimming
Frost Filter: soften beam edge in-air effects
provide two type of soft and light beam
Outstanding strobe effect with variable speed
Model
Light Source
Light Source: Philips MSD Platinum 19R LL engine
Life expectancy: 4,000 hours
Optical System
Control and Program
4-Button touch panel
Display: LCD Display
Protocols: DMX512, RDM
DMX Protocol modes: 2
Control channels: 21/17
Firmware Upgrade: Upgrade via DMX link or USB disk
Pan/Tilt Resolution: 16 bit
PAN & TILT
Pan movement: 540°
Tilt movement: 260°
Automatic Pan/Tilt position correction
Fixation: Pan/Tilt lock
Color Wheel
1 x Color wheels: 12 colors + CRI filter + green-minus filter, rainbow effect
Static Gobos
Static gobo wheel: 13 HD gobos, including 3 water effect gobos, plus open Color
Prism
one 8-facet prism, one 24-facet prism, one 48-facet prism, one 6-facet linear prism, 8 kinds of combinations
Frost Filters
Advanced Frost Filter: soften beam edge in-air effects
Diffuser Filters
Diffuser Filters: provide double homogenization effect light-heavy
Electrical and Connectors
Input Voltage Range: 100-240V~ 50/60Hz
Power consumption: 570 W
Power In/Out: Power Connector in/out
Data in/out: 3-pin and 5-pin XLR
Fixture Specification
Fixture Dimensions:

Width: 350 mm (13.8")
Depth: 223 mm (8.8")
Height: 668 mm (26.3")
Weight: 28 kg (62 lbs)

Flight Case Dimensions:

Width: 915 mm (36")
Depth: 580 mm (22.8")
Height: 910 mm (35.8")
Weight: 108 kg (397 lbs)(include flight case, dual loader case)
Work Environment
Maximum ambient temperature: 40°C
Minimum operating temperature: 0°C
Maximum surface temperature: 90°C
Protection rating: IP20
Approvals
CE compliant
UKCA compliant
cETLus compliant
Installation
Available in horizontal or vertical mounting
Universal operating position
2x omega brackets(optional with 2 x foldable fixed clamps)
Safety cable attachment hole
Included Items
Digital User Manual
Power Cable
2x omega brackets(optional with 2 x foldable fixed clamps)
Optional Accessories (with item code)
Flight Case: 3205001318
Raincover: 3033001749
Safety Rope: 2060001603-A (SW-05)
Signal Line: 3-pin and 5-pin XLR signal line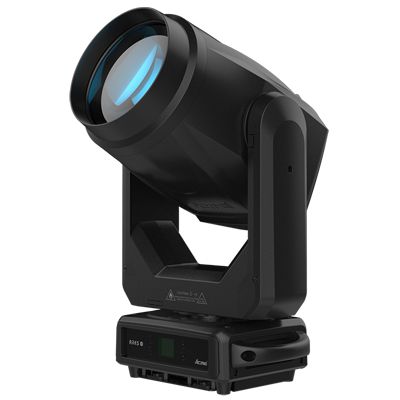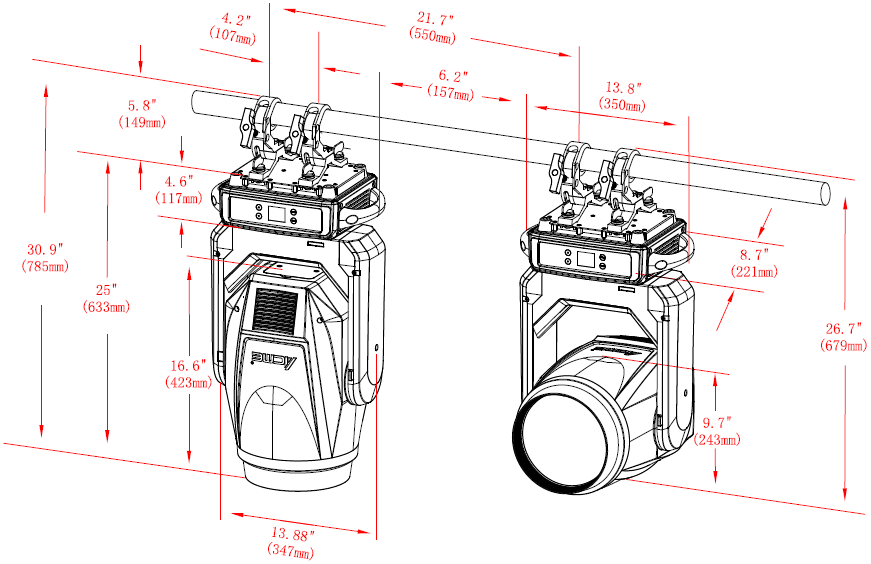 Version
Read
Download
Date

Spec.Sheet

ARES Specification Sheet

updated: 2023-11-23

2023-11-23

User Manual

ARES User Manual C Version

version C, updated: 2023-09-05

C
2023-09-05

Drawings

ARES Hanging Dimension

updated: 2023-03-24

2023-03-24
ARES Dimension

updated: 2023-03-24

2023-03-24

Firmware updates

ARES (XP 500 BEAM)-V11-68122

version V11, updated: 2023-10-30

V11
Upgrade log
2023-10-30

Compliances & Declarations

ARES (XP 500 BEAM) CE Certification (EMC)

version , updated: 2023-03-29

2023-03-29
ARES (XP 500 BEAM) CE Certification (LVD)

version , updated: 2023-03-29

2023-03-29
ARES (XP 500 BEAM) UKCA Certification (EMC)

version , updated: 2023-03-29

2023-03-29
ARES (XP 500 BEAM) UKCA Certification (LVD)

version , updated: 2023-03-29

2023-03-29
ARES (XP 500 BEAM) ETL Certification

version , updated: 2023-03-07

2023-03-07